The Malone Story
Glorious Malone's Fine Sausage began as a neighborhood store at the corner of Sixth and Hadley streets on Milwaukee's north side. Operated by husband-and-wife team George and Glorious Malone, the store offered basic provisions, household items, penny candy, and deli meats. Malone's Headcheese recipe became a popular specialty item in the late '60s when the couple went from sharing the treat during the holidays to delivering on commercial orders.
After George passed away, Glorious continued to manage and grow their expanding enterprise. By then, Malone's increasing popularity led to orders for the specialty meat from individuals, taverns, and other corner stores across Milwaukee, Racine, and Kenosha, and as far south as Chicago.
As the enterprise grew, Glorious improved the recipe with new flavors and spices, and earned a state inspection license and a U.S. Department of Agriculture meat inspection license. Her son, Derek, and daughter, Denise, worked long hours by her side to expand into markets throughout the Midwest.
Malone's is presently a 12,000-square-foot plant at 300 W. Walnut St. in Milwaukee, Wisconsin as a part of revitalization efforts in the King Drive neighborhood. The corner store is long gone, but the legacy of this family tradition continues to thrive. Glorious passed away in 2007, and the eldest Malone child, Daphne Jones, became President and CEO.
Ten employees now help produce as much as 235,000 pounds of headcheese a year, destined for markets throughout the Midwest and beyond.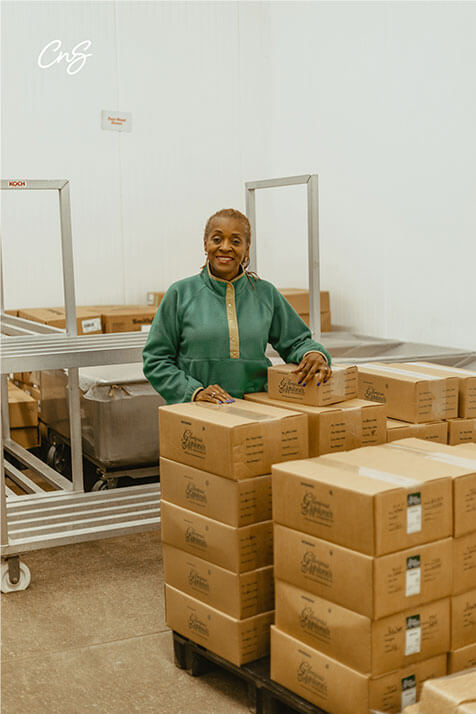 Meet the Glorious of Glorious Malone's Fine Sausage, Inc
Glorious was born and raised in Hammond, Louisiana, where she was the youngest daughter and the fifth of six children. In her teens, Glorious came to live with her father, Sterling Williams, in Milwaukee. Her father was one of the city's first black barbers and also ran many other enterprises, including a taxi service.
As a young woman, Glorious first worked as a nursing assistant. She married a lanky young man from Tennessee named George Malone in 1950. In 1961, she and her husband opened a grocery business to sell produce they brought from the south. When George passed away in 1972, Glorious continued to run the store, including the growing popularity of their headcheese recipe.
In the early 70s, Glorious Malone became Wisconsin's first African American woman to earn accreditation from the United States Department of Agriculture. In fact, she was long believed to be the only Black, woman-owned sausage firm in Wisconsin that was USDA inspected, and among the first such firms in the country.
Throughout the decades of growing her family's business from a neighborhood corner store to a specialty meat distributor with international reach, Glorious maintained a fierce commitment to her family and to her community. She raised two daughters, one son, and became a grandmother to nearly two dozen grandchildren and great-grandchildren.
Glorious Malone died of pancreatic cancer in March 2007. She was 75.
Check out all our products: Hot Headcheese, mild Headcheese, rag bologna, and Malone's Fine Sausage Recipe Book.