Meat Science - UW-Madison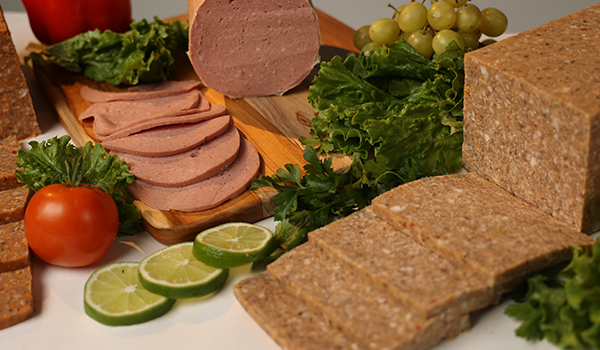 Glorious Malone took a family recipe for Southern-style headcheese and developed it into a successful business, Malone's Fine Sausage, Inc., that recently celebrated its 30th anniversary and sells its product throughout the upper Midwest.
Glorious Malone was born in Hammond, Louisiana in 1932. After suffering rheumatic fever, she joined her father, Sterling Williams, in Milwaukee. Mr. Williams was among the city's first African American entrepreneurs as a barber and had other enterprises including a taxi service and a small store that sold fresh fruits and vegetables from the South. Glorious worked as a nurse's assistant and in 1950, she married George Malone. George gained a reputation for his headcheese that was prepared from a personal recipe and was given to friends and relatives during the holidays.
George and Glorious purchased their first grocery store, along with her father, Sterling, at 6th and Hadley in Milwaukee in 1961, where they sold general groceries, deli meats and penny candy. George and Sterling now had a perfect opportunity to expand their sales of fruit and vegetables from the South. Because their headcheese was so popular, they were able to sell it as an additional product in their store.
After George's death in 1971, Glorious became the sole management of the store. She improved the headcheese recipe and the product continued to grow in popularity and was more in demand than ever. She continued to prepare it in the kitchen of her store. Unknown to Glorious, her customers were reselling her headcheese in stores and serving it in taverns as far away as Chicago. Glorious soon received a visit from the Wisconsin Department of Agriculture Meat Inspection Division to discuss these activities. As a result, Malone's Fine Sausage, Inc. was born. It received a state meat inspection license and subsequently moved to federal meat inspection. Glorious Malone was the first African American woman in the United States to obtain meat inspection accreditation from the USDA and to own and run a federally inspected plant.
Malone's Fine Sausage, Inc., prospered. When they outgrew the first location on 6th and Hadley, they moved to a building at 17th and Center Streets that had a smoke house. When she outgrew 17th and Hadley, Glorious purchased a lot on Walnut Street in 1993 and in spite of much opposition, trials and tribulations, built the current 12,000 square foot facility. Malone's Fine Sausage, Inc., currently produces and markets 300,000 pounds of headcheese annually, has 12 employees and markets its product in deli style loaves and retail packages throughout the Midwest. Southern-style headcheese is Malone's only product and, with its smooth texture and unique flavor, it differs completely from the European recipe, also named headcheese. It is available at supermarket stores such as Pick N Save, Piggly Wiggly, Albertson's and Dominick's and more than 500 independently-owned stores.
Glorious Malone has three children – Daphne, Denise and Derek. She died of pancreatic cancer in 2007. Her daughter, Daphne Jones, assumed management of the company in 2006 and became sole owner after Glorious' death. In honor of Glorious and as a tribute to her tenacity, Daphne decided to begin doing business as Glorious Malone's Fine Sausage.
In addition to being a determined, innovative and successful businesswoman, Glorious Malone was a caring, generous, civic-minded individual. She helped those in need, generously providing food and assistance. When the need for larger, more modern facilities arose, she chose to build her new plant in Milwaukee's historic King Drive neighborhood, thereby contributing to the redevelopment of the area, rather than move to the suburbs. She never forgot where she came from and those who helped her achieve success. She wanted the example of her firm's growth and success to be shared by the community.
Glorious Malone was a true Wisconsin meat industry pioneer and made an indelible, lasting mark in the Wisconsin meat industry. She is a worthy addition to the Wisconsin Meat Industry Hall of Fame.